Background
Pearson+ is a direct-to-consumer app for higher ed students providing a cost-effective, digital replacement for print textbooks.
As a UX and visual designer, I joined the team to help launch the app and now focus on both general and feature-specific improvements, including audio, which we'll dig into here.
Pearson+ launched with an audiobook feature but the spoken text did not align with the text on screen. We anticipated our customers would expect the text to follow along with the audio, so we quickly followed up.
 - We received a lot of feedback in app store reviews about audio, both good and bad. This helped us to prioritize what
   to tackle first. In addition to text following along with audio, we read that audio settings were hard to find
 - Learners consume content differently on desktop and mobile requiring tailored solutions.
How might we begin to improve the Pearson+ audiobook experience?
1. Add a read along feature to help students increase comprehension and focus.


2. More effectively integrate the audiobook into the reading and studying experiences.
Goals
We're measuring success by number of sessions, length of sessions, and recurring usage.
100% increase in audio usage (6% to 12%)
Increase satisfaction rate (3.2 to 3.8 NPS score)
50%+ user awareness
Research
User Testing 1
My lead ran the first test of read along feature placement and text spotlighting styles.
Hypotheses:
- Read Along will be easily discovered in the Audio Playlist Drawer 
- It is possible that Read Along will not be as discoverable via the Display settings drawer or from the content selector dropdown menu
Students will prefer to have some sort of control over what items in the content selector dropdown menu are handy.
User Testing 2

After we nailed down access points, I launched another unmoderated test of 20 English speaking higher ed students, ages 18-30 in the US on usertesting.com.
Why a second test? 
After feedback on text spotlighting was split, we worked with creative tech to test a more realistic prototype. Now with more capabilities, we also tested spotlight fade and playback speed preferences.
Hypotheses:
Students will prefer the sentence and word spotlight option. ​
Students will want to change the playback speed based on subject and if the read along spotlight is enabled or disabled. ​
Students will strongly prefer the fade option.
Students will want to customize their read along experience.
Interface design

I was responsible for delivering final UI.
All screens were designed in different color modes for desktop web and native app.
Examples below.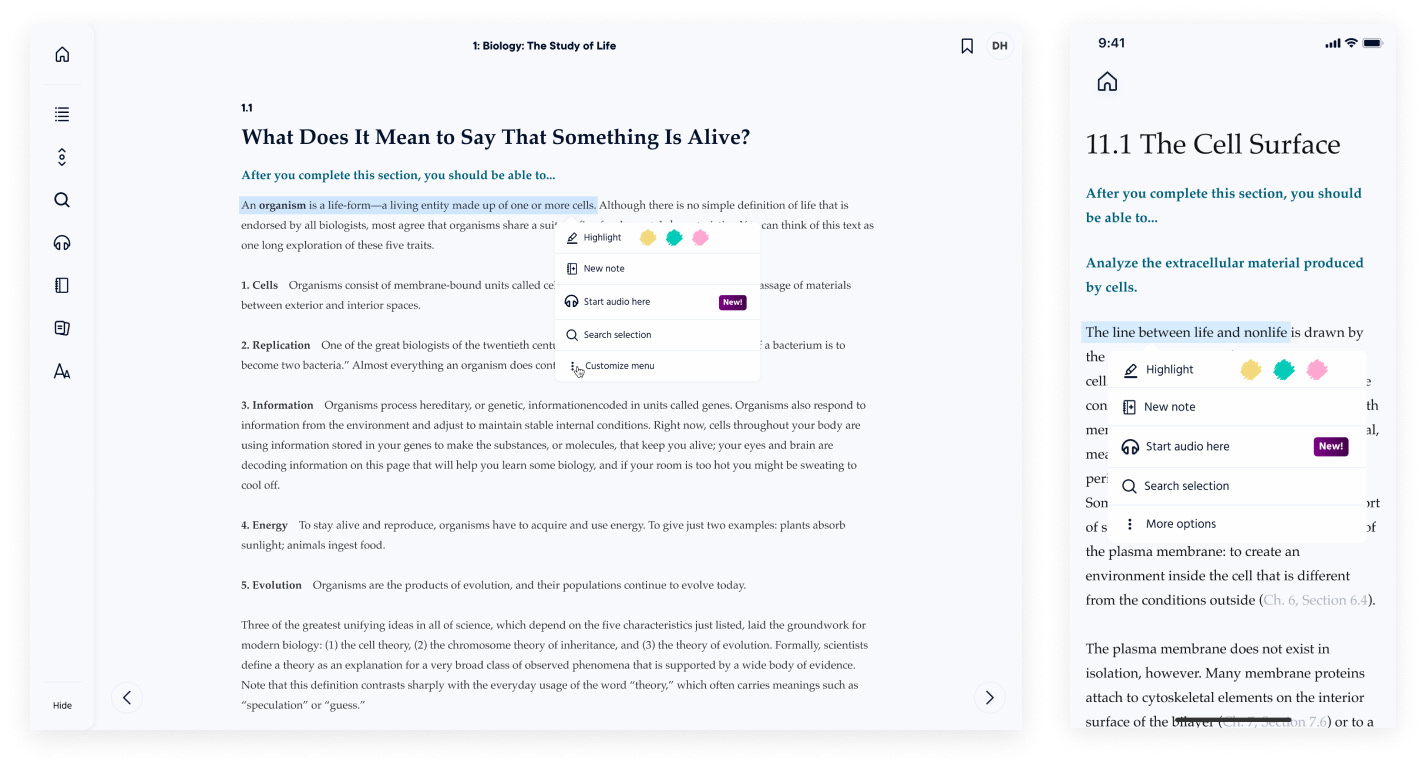 Where do we go next?
The first iteration of read along is launching for back-to-school 2022. We're excited to provide students with this highly requested feature and to analyze the user and business outcomes.
As we are adding more features to the app, we uncovered a need to update the overall information architecture.
We'll continue to iterate on the audio experience and investigate if students are interested in a "focus mode" approach when read along is activated to further increase focus and comprehension.